Our chutes feature 2-hour fire-rated doors available in steel or stainless steel construction.
We provide both custom garbage and linen chutes.
Anti-vibration mounting systems and riser insulation to help maintain a quiet operation.
Our Rust-proof components ensure a long operating life with all of our doors approved for drywall and masonry installations.
Quality made municipality specified bins, including the 2-3 Cubic Yard, Organic-only container, which was implemented by the City of Toronto for all high-rise apartment buildings.
A number of high-end features, including sturdy casters and UV protection for outdoor use.
Available in several different sizes 3,4 & 6 Cubic Yards.
Quality craftsmanship allows for high weight capacities and a long-lasting finish.
Custom Iron And Metal Fabrication
Since 1965, we have provided custom metal fabrication for thousands of customers, and our design team has decades of combined experience.
We provide mobile MIG and ARC welding and we can design and fabricate parts, equipment, and accessories to exact specifications.
Our teams use advanced plasma systems for custom cutting, and we design each project using the latest Auto-Cad software.
We specialize in safety guards, bike racks, wheelchair ramps, steps access ladders, and dozens of other custom products.
High-Rise Building Ventilation Systems
York Sheet Metal Ltd. provides innovative ventilation systems with each component designed to meet strict code requirements while delivering years of dependable operation. We design our ventilation systems to maintain appropriate air flow regardless of size and/or location. Design and manufacture every component of our ventilation systems in a state-of-the-art Canadian facility.
Ductwork Installation
Exhaust Systems
VAV & Air Outlets
Heating & Air Conditioning
Testing & Balancing
Custom Sheet Metal Fabrication
Estimating/Budget Pricing
Custom Design/Build.
With the York Compactor Machine and Bi Sorting & Tri Sorting Systems from York Chutes LTD.
York Chutes has been revolutionizing the GTA with automated garbage Bi and Tri-Sorting systems for the high-rise residential buildings industries.
Benefit from some of the most dependable compactor and sorting options available anywhere.
Our system's intelligence is far advanced in comparison to today's existing technology and here are some reasons why:
We allow for multiple simultaneous users accessing same waste stream as well as consecutive keypad selections to be held in queue sequence.
A very fast selection turnover time.
Helps detect most chute blockages before becoming a major problem.
Has extensive capability of detecting problems with more precision and exact location.
Whether it's a building renovation or a new high-rise project, make the right choice and choose York Chutes to provide you with a system that will give you years of reliability and satisfaction.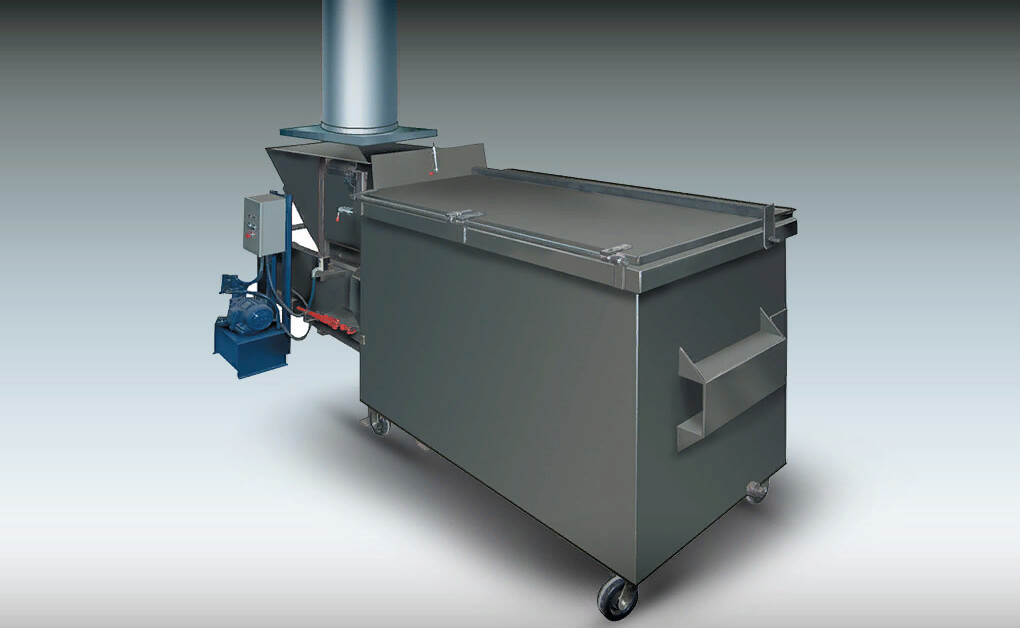 Our compactor design is capable of 8,900 pounds of maximum force and 7,100 pounds of normal force with 127mm ram penetration which is more than sufficient for the waste of a typical high-rise apartment building. It integrates into chutes, providing a dependable cycle time of 38 seconds.
Simple controls improve efficiency while reducing the risk of malfunctions and the automatic cycle start limits maintenance costs. Optional features include a photocell start time delay, a deodorizer system, and a 3/4 full LED Light.
We have created a high-performance compactor that can simplify your building's waste management by dramatically improving efficiency and space.
York Chutes LTD. carries all of the parts and accessories you need to keep your building operating efficiently.
We maintain a large inventory of parts for all of our systems in order to provide our clients with quick service. From bin casters to chute sanitation, sheet metal products to ventilation systems, we have hundreds of options each crafted with high-quality materials and extraordinary attention to detail.
As apartment building experts, we can advise you on part replacements when necessary, and all of our products are designed with appropriate safety features.
Some of our accessories include our bin dolly, Chute Door Parts, Caster and wheels for Garbage bins, Utility and garage Fans, recycling container lids. We offer sanitizers, exhaust fans, custom troughs, floor drain grates and much more if you need an upgrade, we can help.